Recent Projects
Recent Conferences
Open Forum in Toyama
We held an open forum in Toyama on May 15, 2010.
With the ocean on one side and magnificent snow-covered peaks on the other, Toyama was a beautiful place to hold the SIDS Family Association Japan's biennial conference.
Toyama is an eco-friendly city with impressive and progressive practices in energy conservation. This time the SIDS Family Association Japan was proud to co-sponsor the conference with three other local support groups: Sunflower Organization, Angel's Cradle and Mothers of Angels. Speakers included Dr. Hiroshi Nishida and five bereaved parents, including two fathers, as well as a panel discussion led by Dr. Masayo Yoneda.
Thank you to over 100 participants (families, midwives and medical professionals) who came to learn about care for the bereaved.
Open forum in Fukuoka
On June 21, 2009 we held our biennial Open Forum, this time in Fukuoka City located in northern Kyushu.
The conference site had beautiful views of both the mountains and the sea. The theme was "Working for Infant Survival-Grief Care Connecting Medical Professionals and Bereaved Families." We hosted 180 participants that included bereaved families, medical professionals and students. Such a variety of participants created a warm atmosphere and the conference offered a fantastic spread of speakers and topics.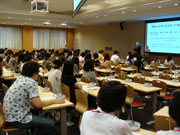 Open forum in Fukuoka
Speakers included a pediatrician, a psychologist, a midwife, an emergency responder, and representatives from other support groups. Bereaved family members and a medical advisor of SIDS Family Association Japan also spoke, giving extremely moving personal accounts that touched hearts and helped to inform the professionals concerned with their care. This forum helped to progress the dialogue between professionals and parents and to continue our efforts in bereavement education. 
Shiga Seminar
On August 10th, 2008 a seminar was held in Shiga near Osaka. The seminar included talks by Dr. Kidoguchi, a SIDS Family Association medical advisor, and several befrienders. We welcomed 70 medical professionals and students as participants. Our participants said that the afternoon of talks was informative and helped them to understand how to care for the bereaved.
Open Forum in Shikoku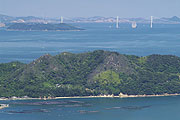 Shikoku
On September 22nd 2007 we continued our efforts to educate the public about SIDS, stillbirth and care of bereaved families by organizing an Open Forum in Shikoku, the island east of mainland Japan. We welcomed over 100 participants that included bereaved families, medical professionals, counselors and emergency care workers. The day was filled with informative lectures and Q&A sessions. Bringing correct and vital information to the outlying areas is an extremely important part of our mission and this day certainly accomplished that.
The 9th SIDS International Conference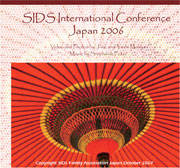 The 9th SIDS
International Conference DVD
The 9th SIDS International Conference, sponsored by the SIDS Family Association Japan, held on June 1-4 2006 was a resounding success! Our conference program offered support for families as well as the most up-to-date research on SIDS and Stillbirth. SIDS International has been bringing together the world's leading researchers and support organizations for 20 years. Bringing great minds together in this way can be credited with the world-wide reduction in the SIDS rate. We hope our conference this time will also contribute to stillbirth prevention. Write to: contact@sids.gr.jp to order an abstract book or a DVD of the conference in Japanese or English.